Having just completed post-production, we are so excited to be launching HER PLACE into film festivals across the nation. 
Upcoming appearances include: 
WORLD PREMIERE – Sarasota Film Festival: March 28, 29, 2020
Fort Myers Beach International Film Festival: April 21-26, 2020
Sunscreen Film Festival: April 30 – May 3, 2020
Foreman Empire Productions Film Festival (Atlanta): March 2021
HER PLACE is a short film from producers Kathryn Parks and Elise Rodriguez, directed by Kathryn Parks with assistant direction from Elise Rodriguez and director of photography, Mark Palmer.
Press contact: kathrynanneparks@gmail.com
Logline
A 1950s housewife awakens to a future far removed from mid-century nostalgia. 
Specifications
Directed by Kathryn Parks
Assistant Directed by Elise Rodriguez
Written by Kathryn Parks
Produced by Kathryn Parks and Elise Rodriguez
Starring Kathryn Parks, Elise Rodriguez, and Casey Murphy
Running time 5:12
Aspect ratio 1.90:1, 4K
Shooting format Digital- Sony F5
Sound AAC 48khz stereo LR
Behind-the-scenes photos
BTS Umbrella House photos by Jamie Lee Butrum (Goddess Imagery).
BTS school photos by Connie Cuadrado.
One of the inspirations behind HER PLACE was The Umbrella House in Sarasota, Florida, an iconic work of the Sarasota School of Architecture designed by architect Paul Rudolph and built in 1953. Architectural Digest has described the Umbrella House as "One of the five most remarkable houses of the mid-twentieth century". The film also showcases a rendering of the Umbrella House by Sarasota's own renowned illustrator John Pirman.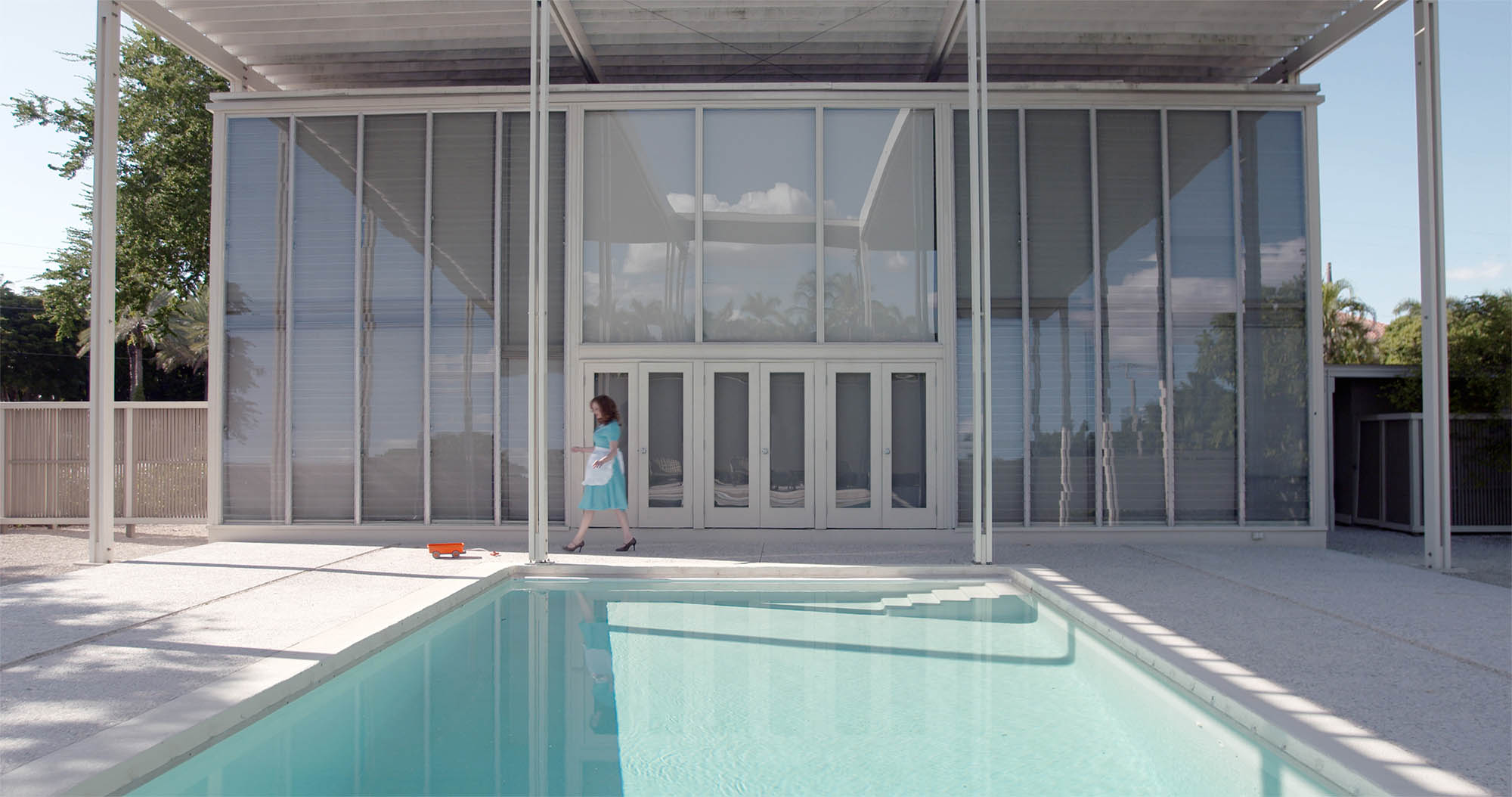 Key Cast and Crew
Kathryn Parks | Director, Writer, Producer, Lead Actor
Kathryn was born to performing parents and graduated with a BA in Theatre Arts from University of Miami. On Florida stages, she's performed professionally in shows, concerts, musical improv and cabarets. Kathryn first short, 50 WORDS, was named "Best Florida Film" by the Bonita Springs International Film Festival. HER PLACE marks Kathryn's directorial debut. kathrynparks.com
Elise Rodriguez | Assistant Director, Producer, Actor
Elise Rodriguez is a Cuban-American performer, teaching artist, and creative professional. After transitioning out of a legal career, she decided to pursue the creative arts full-time and never looked back. Elise is currently on the Mainstage & touring improv casts at Florida Studio Theatre where she hosts, performs, coaches, and teaches improv. She also performs with Treble in Paradise, FST's musical improv cast; and in Monolise: a friend-ly monoscene with Elise. Elise is fluent in Spanish and has performed and taught improv internationally for latinx performers and audiences.
Mark Palmer | Director of Photography
Mark is an award-winning photographer, cinematographer, director and producer who has been working behind the camera for more than fourteen years. With his own production company based in Sarasota, Florida, MarsVision Productions, credits include various regional corporate projects as well as grand prize winner in Viral Film Project, "Best Story Award" for Devotion in 48-Hour Guerrilla Film Challenge and award-winning PBS documentary series, Diamonds Along the Highway. marsvisionproductions.com
Casey Murphy | Actor
Casey moved from New York City to Sarasota three years ago.  As an actor, he has worked on stage both regionally and in New York. Select theatres at which he has appeared include: Urbanite Theatre, Florida Studio Theatre, Theatre Odyssey, Ensemble Studio Theatre, Eugene O'Neill Theater Center, Bigfork Summer Playhouse, Cohoes Music Hall, and Michigan Shakespeare Festival. Casey is a proud graduate of the University of Michigan. 
Bobby Brader | Composer
LA-based musician Bobby Brader has been an Orchestrator on big films such as "Trolls" and "The LEGO Ninjago Movie." Music Preparation credits include Tim Burton's "Miss Peregrine's Home For Peculiar Children" and the original "American Idol" TV show. Bobby has composed music for many short films and two feature-length films, "Dead List" and "Wild Boar".  Learn more: bobbybrader.com
CAST
Kathryn Parks
Elise Rodriguez
Casey Murphy

Savanah Z. Montes
CREW and CREATIVE TEAM

Directed by
Kathryn Parks 

Produced by 
Kathryn Parks and Elise Rodriguez

Assistant Director:
Elise Rodriguez
Written/adapted by Kathryn Parks

Director of Photography:
Mark Palmer

Editor:
Kathryn Parks

Music Composer:
Bobby Brader
Colorist: Wheat
Hair/Makeup: Jessica Manzano

Opening artwork by
John Pirman
Production Assistants

Eric Tate,
Caleb Duplain,
KC Jones

Connie Cuadrado
SPECIAL THANKS
Bob and Anne Essner,
Maria Llovio,
Becky Canesse,
Alexdrena Green,
Jimmy,
Canned Ham Vintage,
Jonathan Parks,
John Rusnak,
Sharon Ohrenstein,
Mars Vision Productions,
Stevie Montes,
Players Centre for Performing Arts,
Georgina Willmott